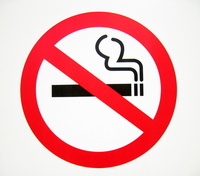 My ​​​​​​​​​​​​​Quit Smoking Program consists of two sessions. 
Session 1 - 

I take a full history and really explore why you have decided not to smoke, and if there are any deeper emotional issues that may prevent you from succeeding. This is a very important part of the process.
I will then use powerful hypnotic suggestions to help you quit.
Session 2 -  Building on session 1, your desire to quit is firmly reinforced. You really accept and embrace the understanding that you are a non-smoker. 

My clients report feeling more positive and energised, and so much healthier after these sessions.*
Program cost

-

$350 - save $25
Includes recordings to listen to at home.
Call 0409 803 696

Appointments available in Richmond - Brunswick - Avondale Heights
Save Money and Save Your Health
I have helped many, many people quit smoking and I can also help you. 

Hypnosis is safe, effective and fast.
If you are ​really ​ready to quit smoking then hypnotherapy can help.
Using powerful quit smoking hynosis, I will help you to move on from that smoking habit quickly. No stress - no cravings - just a complete acceptance that you have left smoking behind you.
​Hypnotherapy works because it gets to the deep unconscious drivers of behaviour. 
The mind processes information in a different way when we are in hypnosis so  if you do really want to quit, you will notice a change in your thoughts about smoking from the first session.
You will feel very relaxed but will also actively participate in the process. 
So if you really want to quit, there will be no unconscious resistance and you can begin to enjoy life free of cigarettes. *

*Each client is an individual and results may vary for each client
Luke's experience:
I was skeptical but am so pleased I had this therapy. I went from a pack a day to nothing. I recommend hypnosis to anyone who is really sick of smoking and just wants to stop.
Kassidy's experience:

​I can't say enough about Change in Mind and especially about Trish. 

I completed three sessions, from the 1st to 2nd session I did smoke but after the 2nd session I have never looked back and never crave a cigarette. The 3rd session helped me feel calmer andmore confident of my own capacity to stay off the cigarettes.

I would not have believed that I could say that considering I was smoking almost a pack a day. Trish is a very kind, compassionate person and she never judges you. She is very genuine and will tell you if she thinks you do not need her help any more. I would 100% recommend Trish.